dina@riwornamental.com
Edina is the owner of R.I.W. Ornamental, Inc. She immigrated from Bosnia to the United States in 1997 and holds a degree in Mechanical Engineering. Edina and her husband Rocky started R.I.W. in 2001 and she focuses on the business aspects at R.I.W.
rocky@riwornamental.com
Rocky is our Director of Operations. He and his wife, Edina started the company in 2001 as a 1 man shop. Rocky studied Mechanical Engineering in Bosnia before immigrating to the United States in 1997. Rocky focuses on technical aspects at R.I.W.
sales@riwornamental.com
Pamela came to R.I.W. with a background in hospitality as a Front Desk Manager. In 2009 she made the transition from California to Kentucky and began working for R.I.W. as our Secretary. Since then she has evolved into our do-it-all Director of Admin. and continues to bring her hospitable nature to the job everyday.
mike@riwornamental.com
Mike joined RIW in 2009 as a Draftsman after studying Applied Sciences at Gateway College. Mike has over a decade of senior project management experience, is skilled in AUTOcad and is OSHA 10 certified. Throughout his tenure in Ornamental Metals he has evolved to become our Senior Project Manager.
sbomkamp@riwornamental.com
Sheri has worked in the ornamental metal industry for 30 years. She graduated from UC College DAAP with a degree in Architecture, Industrial Design, and Fine Arts. She specializes in ornamental metal design, fabrication & finishing of decorative metals, sales & marketing, and estimation.
Matt joined the team in 2023. Matt assists many tasks on the administrative side and oversees marketing and social media activity. He is often the voice of RIW when the phone rings, setting the stage early for a high quality experience.
Amela joined us in 2022 as one of two members working full time remotely! She joined after her studies at Faculty of Mechanical Engineering, Department of Computer Engineering in Dzemal Bijedic University (Mostar, BIH) – same Alma Mater of Rocky and Dina! 
Amina also joined us in 2022 as our second full time remote employee! Akin to Amela, Amina also joined us after studying at the Faculty of Mechanical Engineering, Department of Machinery Production in Engineer at The University of Sarajevo. When the opportunity came, she did not hesitate to take it and began her career in the (ornamental) metal industry!
Melika is our third member of the team to join straight from Bosnia with a Bachelors degree in Architectural Engineering. She comes to us with a collegiate background in architecture as well as 2D & 3D printing. Her designing capabilities make her a wonderful asset to have on the team.
Justin joined our team in 2023 with immense experience across vast industries with a focus in welding, fabricating, and installation. He is our lead installer and oversees successful work on our projects.
Ranko started with us in 2005 with a background in machine operating & sheet metal working. At R.I.W. he focuses on polishing, grinding, and the installation of our products. He can accomplish just about anything and works closely with our Field Supervisor on job sites.
Joining the R.I.W. team in 2022, Ervin came on to be a product finisher. He takes pride in making sure each hand made piece is cleaned up and ready for install. Perfecting art is one of Ervin's many wonderful skills!
Thomas joined the crew in summer of 2023. He is a hard worker and an active participant at several job sites! His work ethic and subject knowledge make him a great addition to RIW.
Adam joined RIW in summer of 2023. With a wealth of knowledge and experience coming into the position, he is a natural fit in both our shop and out at the job sites. 
Steve has been working a few days a week for a few months already and his hard work ethic and positive attitude make him a great asset in our shop!
Steven just began his time at RIW. He is positive and has a great work ethic! He is always ready to help in the shop and on the job sites.
Elvir joined our team in the summer of 2023. He has a vast background in installation and finishing. With a great work ethic and positive attitude Elvir is a leader at our job sites.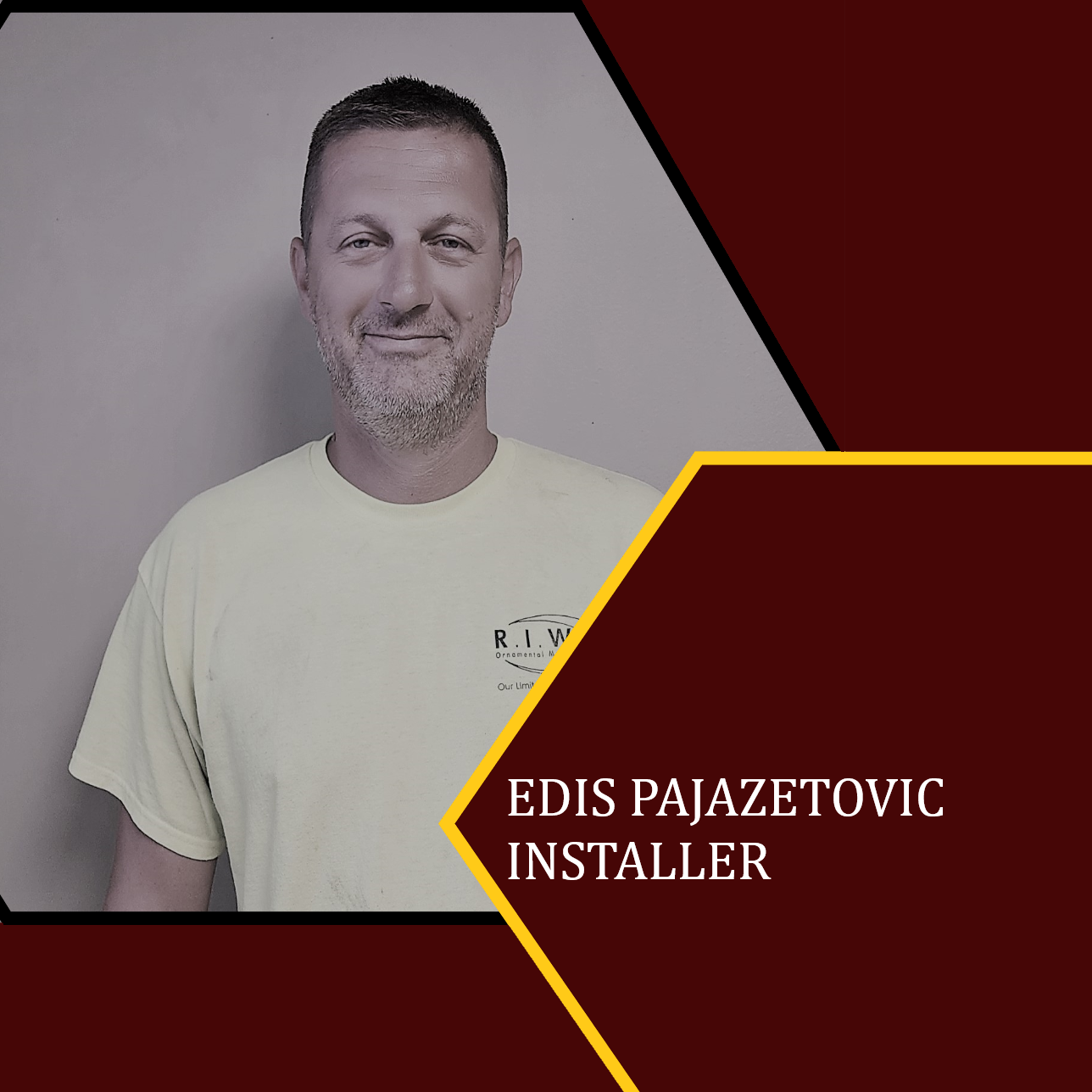 Edis joined our team in the summer of 2023. You can find Edis on our job sites from the start of the day until the end. He is a great asset to the team and a reliable person to have on our staff.
+
Contact
Get in contact for a project.
Products
Explore our different products.